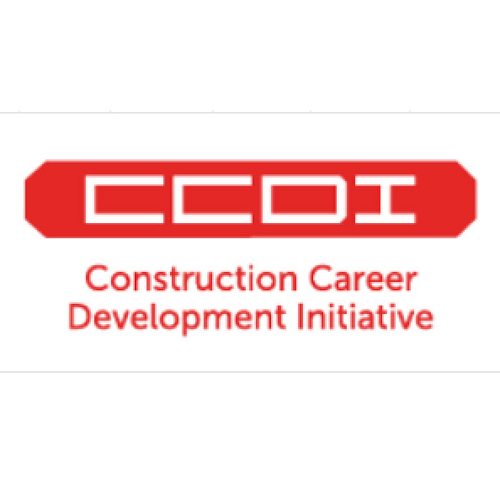 CCDI: Construction Career Development Initiative
WHO WE ARE: CCDI stands for Construction Career Development Initiative. CCDI is a 501©(3) nonfor-profit which was founded by Clayco in 2015 in response to the aftermath in Ferguson, Missouri to provide a program for selected young adults in North County to help them overcome barriers to success, pair them in mentorships, offer financial support and create opportunities for job placement in the construction industry. Clayco's vision with CCDI is to support workforce diversity and bridge the gap in workforce development. Now, CCDI has grown Beyond the Walls of Clayco to include many partnerships in the St. Louis community with school districts, workforce development programs, general contractors and subcontractors. Our goal is to connect the vast ecosystem of industry and educational resources and to promote collectively working together in #BuildingTheFoundationForChange for our next generation of workers.
WHAT WE DO: CCDI's mission is to bring diversity to the Design and Construction industry by mentoring and exposing minority, underrepresented and under employed young people to career development in construction. Our four guiding principles include: Real World Experience. We go beyond the classroom. We get students into real-world work environments for the most valuable career training. The second is Building Awareness. Jobs in construction span a diverse range of disciplines and applications. We work to raise awareness of the various trade apprentice programs. The third is Job Placement. With CCDI, training and mentorship are just the beginning. We provide the support and direction students need to successfully find work and support their continued success and retention in the industry. And fourth is Academic Scholarship. We offer students opportunities to continue secondary education at universities and tech schools for degreed career pathways in construction.
WHY WE'RE IMPORTANT: One of our many goals within CCDI is to cultivate renewed interest in career technical education (CTE) and trade apprenticeship programs. Nationwide the construction industry is thriving, but as Baby Boomers continue to retire, the gap in finding qualified and diverse skilled workers to hire continues to increase. There has never been a more important time for the construction industry to make diversity and inclusion a priority. When you have people who come from different backgrounds, they bring unique experiences that cultivate innovation and creativity. CCDI is building that pipeline by exposing and educating youth to careers in construction while addressing and breaking down the barriers that exist in creating a more diverse, robust and sustainable skilled workforce.
PROGRAM IMPACT: CCDI has a strong network of partnerships with multiple school districts and workforce development programs to enhance the classroom experience for students by facilitating field trips, coordinating job shadowing and internships, attending career fairs, arranging guest speakers and hosting annual hiring fairs for program graduates. CCDI annually exposes roughly 1,000 high school students to careers in construction. We had 85 student participants from 15 area high schools enrolled for the 2022-2023 school year who participated in monthly Saturday Academy sessions. Since 2015, CCDI has assisted 140 students with full-time employment, awarded 42 Build Our Future Scholarships to students pursing secondary or technical education, placed 50 students into paid summer and college internships, helped 15 students with vehicle assistance scholarships, and 40 active graduates participate in our Alumni Network to improve industry retention and mentor high school students in the program pipeline.