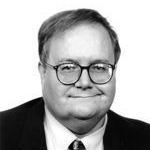 Friends and Colleagues of Neil Molloy
Neil Molloy served as Executive Director of the Housing Authority of St. Louis County from June 1993 until his untimely death in December 2007. Mr. Molloy ran the Housing Choice Voucher program that provides rental assistance to low income tenants and also the public housing program for elderly and disabled. He was committed to helping people of St. Louis County, particularly those with housing needs.
Prior to his work at the Housing Authority of St. Louis County, Mr. Molloy was a State Representative in the Missouri General Assembly, where he represented the Village of Pasadena Park, Missouri. During his eight years in Jefferson City, Mr. Molloy served in a number of capacities including Chair of the Election Committee and as a member of the Appropriations, Ways and Means, Higher Education, Elementary and Secondary Education and Professional Registration committees.
Mr. Molloy earned a B.S. in political science in 1974 and a B.G.S. in accounting in 1981 from the University of Missouri-St. Louis.
Mr. Molloy received many awards for his public service and his commitment to education. After his death, his family, friends, and colleagues decided the most meaningful memorial they could build would be educational opportunity for students participating in the county's housing programs.
Administered by The Scholarship Foundation of St. Louis, the Neil Molloy Memorial Scholarship provides renewable grant aid of $3,000 per year to a student who is a resident in a Housing Authority of St. Louis County property or is a part of the voucher program.